Why you should get involved in Lima 2019 Games
The Pan and ParaPan American Games (also known as Lima 2019) will take place next year in Lima, Peru: a fast-developing region in Latin America. The Games offer UK businesses an unprecedented opportunity to win major contracts for the fourth largest sporting event in the world.
With millions of pounds being spent on operations and new or upgraded sports infrastructure, companies like yours are in a prime position for current and upcoming tenders. UK suppliers across a variety of sectors possess a broad wealth of knowledge, experience, expertise and capability to work on major sporting events like Lima 2019.
Get involved. Follow the links below to find out how:
By registering your interest for the above contracts, your details will be sent to the Department for International Trade's (DIT) Commercial Officers in Lima. They will be there to guide you and address any concerns you might have about doing business overseas in Peru, supporting your company to win these contracts. In addition to this UK government support, the whole process will be in English and bidding will be via a recognisable procurement system.
A number of UK companies have already secured contracts for Lima 2019 and you can too. There's up to £200 million of business to be won, so act now.
---
UK Trade Mission to Peru – July 2018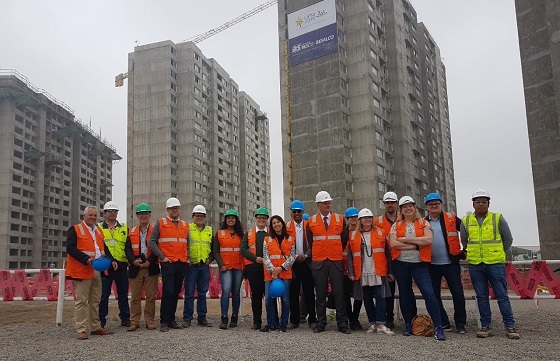 Delegates in front of the apartment towers at the Athletes Village
In July 2018 the DIT office in Lima held a Trade Mission for UK companies interested in the Lima 2019 Pan and ParaPan American Games. Delegates explored opportunities in sectors including logistics, housekeeping, catering, overlay and security.
Highlights of the trip included a networking reception and visits to three of the key venues. They also had the opportunity to meet the Lima 2019 Organising Committee, local companies and the United Nations Office for Project Services (UNOPS). Delegates took part in an interactive session with specialists on taxes and doing business in Peru. Those interested in opportunities being procured through UNOPS and the Peruvian public procurement system received additional expert advice from these key companies.
This mission is an example of DIT support to UK companies working towards exporting to Peru for Lima 2019. Find out about more exciting export opportunities and create a trade profile to enable international buyers to find you at great.gov.uk.